Notice of Vacancy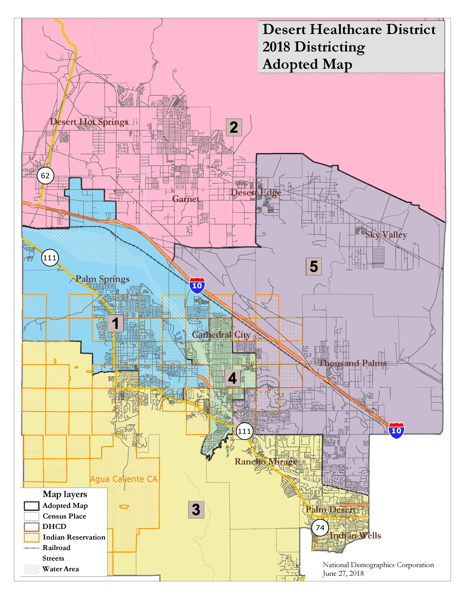 NOTICE IS HEREBY GIVEN that a vacancy exists in Division 5 on the Board of Directors of the Desert Healthcare District. (see the boundaries of Division 5 on the attached map).

Persons interested in being appointed as a board member from Division 5 must apply by letter to the Desert Healthcare District, 1140 North Indian Canyon Drive, California 92262, Attention: Chris Christensen, Interim CEO. The application must state the qualifications of the applicant and the reasons the applicant desires to be appointed to the Board. Applications must be received no later than 12:00 p.m. on Friday, May 10, 2019.

The Board of Directors will interview and consider the applications at a special meeting of the Board scheduled for 4:00 pm on Tuesday May 14, 2019, in the Jerry Stergios Building, 2nd floor "Red" Motley Boardroom 1140 N. Indian Canyon Drive, Palm Springs, California. Each applicant will have an opportunity to address the Board. The Board intends to make the appointment to fill the vacancy at the May 14, 2019, special meeting.

Applicants must be registered voters residing within the boundaries of Division 5 Desert Healthcare District (Health & Safety Code, § 32100.1 & 32110) and be prepared to serve as a director until the November 6, 2020 general election.

Applicants must file a Fair Political Practices Act Disclosure Statement (Form 700) in accordance with the provisions of that Act and implementing regulations of the Fair Political Practices Commission. The Disclosure Statement must be filed at the District office with the application for appointment.

Persons desiring additional information should contact Chris Christensen, by telephone at (760) 323-6365 Dated: April 24, 2019
Chris Christensen, Interim CEO

 
Desert Healthcare District