Valley residents consider 3 maps to redraw District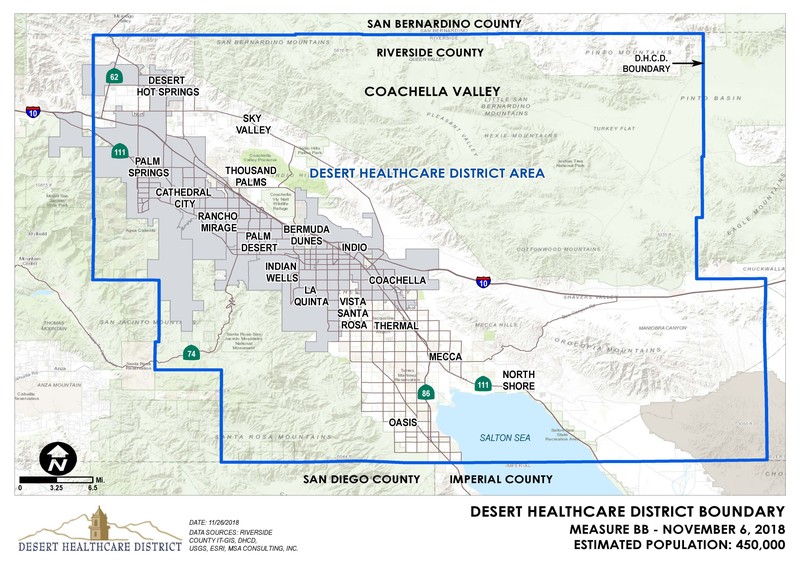 June 3, 2019 - District Staff
Revised maps were presented on May 28 for discussion at the Desert Healthcare District and Foundation's second public hearing on rezoning the District. Coachella Valley residents were encouraged to attend and provide feedback on three maps. The District's goal is to ultimately arrive at a final map that will determine Board representation and elections.
Based on input from residents and District Directors at the April Board meeting, National Demographics Corporation (NDC) revised the original two maps and drafted another for public consideration. See them here: 
Agave
, 
Yucca
and 
Mesquite
.
The maps redraw the District as seven geographic zones that cover the entire valley. A Board Director is elected from each zone. In 2020, four Board seats will be up for election.
During the summer months, the maps will be further updated based on residents' and Directors' feedback. Two more public hearings will follow in the fall, giving valley residents opportunities to participate in the rezoning process. The hearings are scheduled for September 24 and October 22. Meeting location and other details will be published on dhcd.org as they become available. 
About the Desert Healthcare District and Foundation
The Desert Healthcare District is a local government agency formed in 1948. Its mission is to achieve optimal health at all stages of life for all District residents. The District includes more than 400,000 residents and encompasses the entire Coachella Valley. The District and Desert Healthcare Foundation, together, are one of the largest funders in the valley. These funds are used to assist residents — especially the underserved — in accessing vitally needed resources, such as primary and behavioral healthcare, housing, food and transportation resources.