Desert Healthcare Foundation helps farmworkers access COVID-19 test and vaccines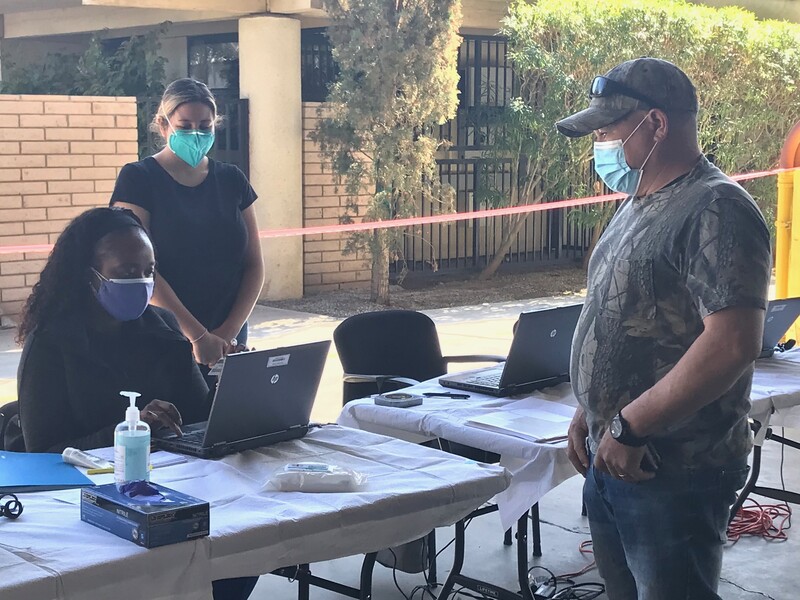 February 24, 2021 - District Staff
Nearly 4,500
COVID-19 tests have been given to underserved Coachella Valley residents through a collaborative the Desert Healthcare Foundation created late last fall in response to the pandemic.
The 
Coachella Valley Equity Collaborative 
was formed after the Foundation received $1.2 million in CARES Act funds through Riverside County in 2020 to raise awareness and opportunities for testing vulnerable communities. Those funds were awarded as grants to eight community-based and faith-based organizations that have provided outreach to farmworkers and other residents who traditionally lack access to healthcare.
Participating grantees include 
Alianza Coachella Valley, Lideres Campesinas, TODEC Legal Center, Galilee Center, Youth Leadership Institute, Vision y Compromiso, Pueblo Unido CDC
, and 
El Sol Neighborhood Educational Center
. The Desert Healthcare Foundation expanded the collaborative to include more community-based organizations after receiving an additional $500,000 in funds from the Public Health Institute.
The collaborative and Riverside University Health System have brought and continue to bring COVID-19 testing to traditionally undeserved residents where they live, work and worship, from Mecca and North Shore to Cathedral City, Desert Hot Springs and Palm Springs' Desert Highland Gateway Estates neighborhood.
"The Desert Healthcare Foundation and collaborative have been integral to the county's outreach efforts in the Coachella Valley," said Kim Saruwatari, Riverside County public health director. "The county is charged with ensuring that all residents, everyone who wants to participate, gains access to COVID-19 tests and the vaccines when it's their turn. While more testing and vaccines are needed, we have made significant strides in the valley because of the Desert Healthcare Foundation and the collaborative. They have established trusted relationships in the community that allowed us to have the necessary conversations with farm owners, agricultural workers and other residents that led to the testing and vaccine events that have happened since November." 
Outreach now includes vaccines, as they become available through the state and county. More than 3,000 doses have been administered by the collaborative and Riverside University Health System so far. Coachella Valley farmworkers, who are recognized by the state as essential workers, have been among the first farmworkers in the U.S. to be tested and vaccinated.
"While we deeply appreciate the county's support of the collaborative's efforts to test and vaccinate this significant part of the nation's food supply workforce, we recognize it's just the beginning," said Conrado 
Bárzaga
, Desert Healthcare District and Foundation CEO. "There are 12,000 to 15,000 farmworkers in the Coachella Valley and many other residents who are disproportionately affected by the pandemic. We are committed to emphasizing the priority of protecting these desert residents as vaccine doses continue to roll out."
Prior to creating the Coachella Valley Equity Collaborative, the Desert Healthcare District and Foundation allocated more than $3 million to battling the pandemic. Grants and collective funds were established to provide COVID-19 testing, personal protective equipment, and core operational support for the valley's federally qualified health centers and nonprofit organizations like the Regional Access Foundation.
About the Desert Healthcare District and Foundation
The Desert Healthcare District is a local government agency formed in 1948. Its mission is to achieve optimal health at all stages of life for all District residents. The District includes more than 400,000 residents and encompasses the entire Coachella Valley. The District and Desert Healthcare Foundation, together, are one of the largest funders in the valley. These funds are used to assist residents — especially the underserved — in accessing vitally needed resources, such as primary and behavioral healthcare, housing, food, and transportation to medical appointments.