Desert Healthcare District and Foundation launches scholarship program with OneFuture to expand racial diversity in health professions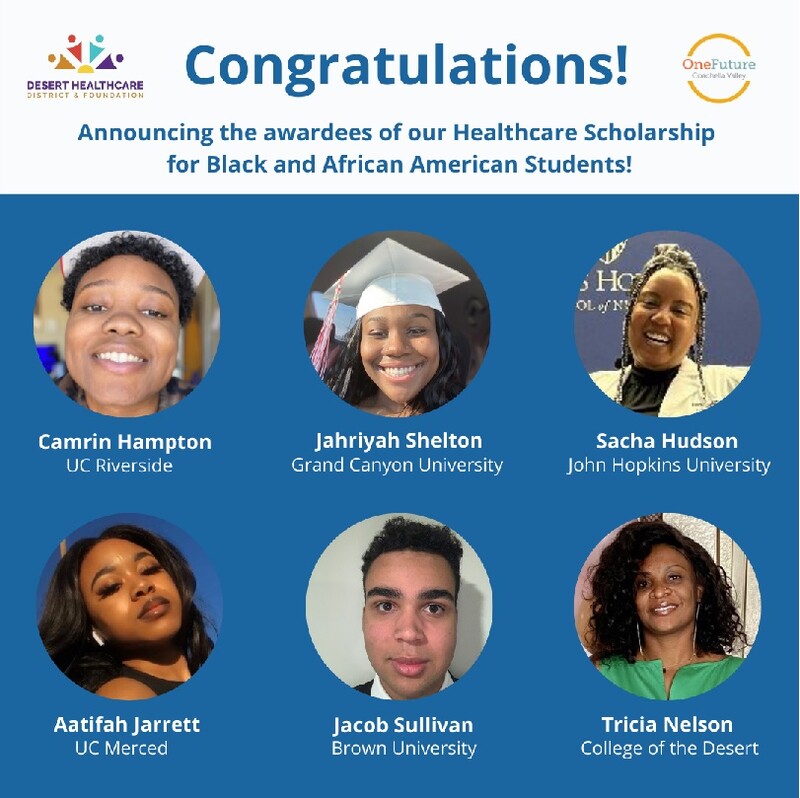 February 24, 2022 - District Staff
Eleven Coachella Valley students are the first recipients of a new scholarship that aims to advance career opportunities for Black and African American residents while expanding racial equity in health professions.
The scholarship program is funded through a $200,000 grant from the Desert Healthcare District and Foundation, with half the funds presented as scholarship awards and the rest to fund program management by OneFuture Coachella Valley. Each student receives $5,000 or $10,000 over two years. Their majors range from nursing and dental hygiene to kinesiology and applied behavior analysis.
The scholarship recipients are (in alphabetical order):
·    Dominic Deanda, Loma Linda University
·    Camrin Hampton, UC Riverside
·    Sacha Hudson, John Hopkins University
·    Aatifah Jarrett, UC Merced
·    Za Nia Moore, CSU Northridge
·    Tricia Nelson, College of the Desert
·    Karizayeye Ruwange, CSU San Bernardino - Palm Desert
·    Tearra Samuels, Arizona State University
·    Lilyanna Scialdone, West Coast University - Ontario
·    Jahriyah Shelton, Grand Canyon University
·    Jacob Sullivan, Brown University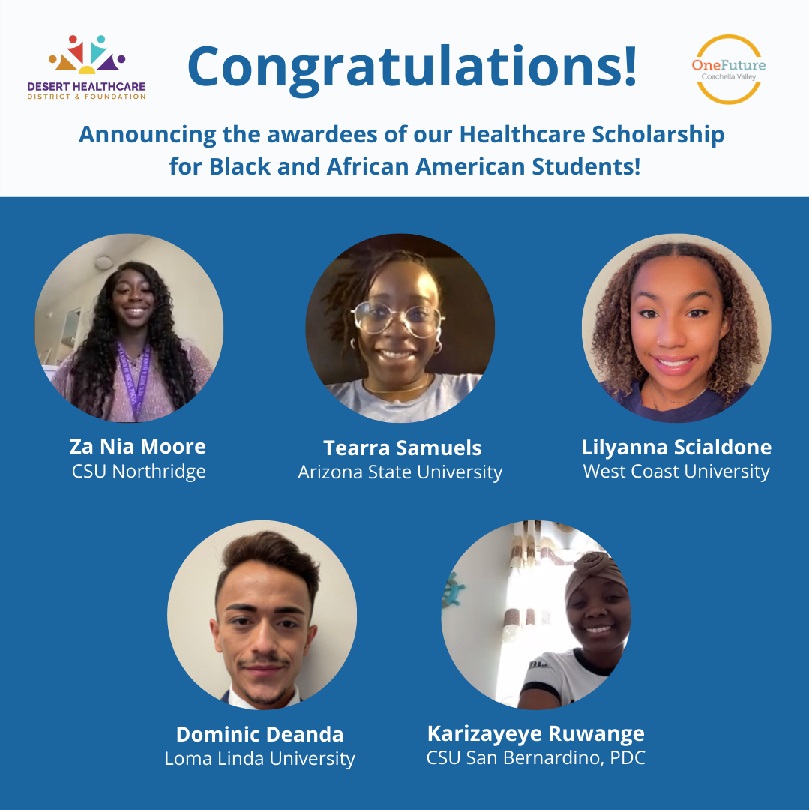 The scholarship recipients were recognized during a virtual ceremony February 23 that was attended by Healthcare District and OneFuture board and staff, Dr. Judy White and advisory committee members, and the students' families.
The District and Foundation Board approved the scholarship grant in July 2020. It is part of an agency initiative that also includes allocating $400,000 to improve healthcare infrastructure and services in Black and African American communities in the Coachella Valley -- with an additional $100,000 from Inland Empire Health Plan and $75,000 from Lift to Rise for a total of $575,000.
"Our community, along with the rest of the world, became increasingly aware of the racial, as well as economic, injustice that Black Americans face through the travesty that befell George Floyd in 2020," said Dr. Conrado Bárzaga, Desert Healthcare District and Foundation CEO. "One of the first things we did as a Healthcare District was to issue a statement reminding everyone that racism is a public health crisis, re-enforcing our commitment to address health disparities among Black and African American communities and other underserved valley residents. Our Board responded with the action that's needed by establishing this scholarship program with OneFuture Coachella Valley."
OneFuture President/CEO Sheila Thornton said, "OneFuture is grateful for the partnership with Desert Healthcare District to support our valley's Black and African American students as they prepare for the future health workforce. These young scholars bring talent and passion to their educational and career journey and will help strengthen the Coachella Valley's healthcare system and improve health outcomes for our community. We are honored to support each of these scholars and look forward to seeing them succeed!"
About OneFuture Coachella Valley
OneFuture Coachella Valley partners business, civic and education leaders to implement the Regional Plan for College and Career Success with the goal of preparing students for college, career and life. OneFuture is a 501c3 nonprofit organization that provides students with career explorations, work experience, scholarships and support services for college success. For more information, visit onefuturecv.org.
About the Desert Healthcare District and Foundation
The Desert Healthcare District is a local government agency formed in 1948. Its mission is to achieve optimal health at all stages of life for all District residents. The District includes more than 400,000 residents and encompasses the entire Coachella Valley. The District and Desert Healthcare Foundation, together, are one of the largest funders in the valley. These funds are used to assist residents — especially the underserved — in accessing vitally needed resources. Learn more at dhcd.org.