A Night of Stars: Desert Healthcare District Presents 2nd Annual Celebration to Honor Community Partners & Workers on April 21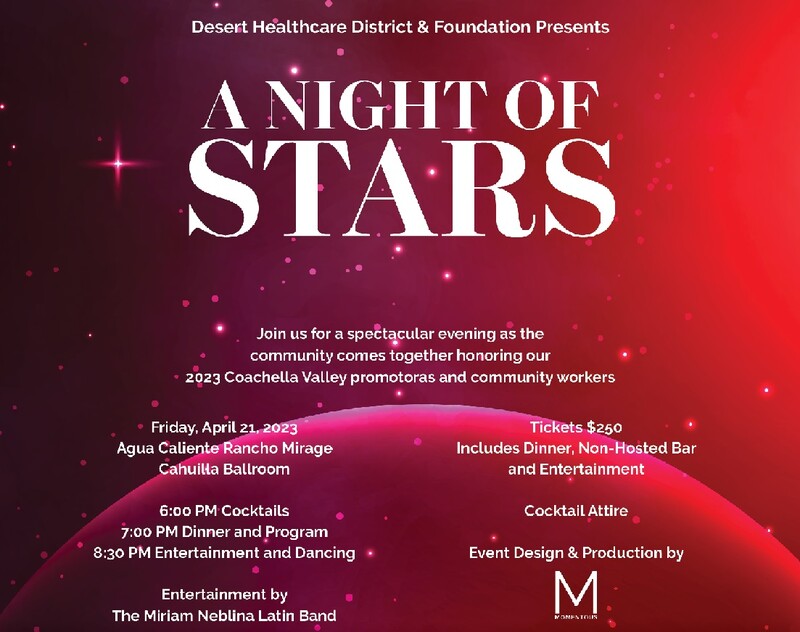 March 8, 2023 - District Staff
One of the great lessons to emerge from the Desert Healthcare District and Foundation's response to COVID-19 over the past three years is that community workers are undeniably essential to advancing health and wellness in the Coachella Valley.
Also known as promotoras, these workers serve as trusted ambassadors for the District and Foundation, Riverside County Department of Public Health, and nonprofit partners in providing education, outreach, and services to protect the valley's most vulnerable residents during a health crisis.
They are often the first people to discuss health matters with residents in underserved communities, as they canvass neighborhoods door-to-door to provide important information. They are a respected presence at COVID-19 testing and vaccination clinics -- registering attendees, providing bilingual translation, and answering questions to correct misinformation.
In 2020, when the Desert Healthcare District and Foundation launched a collaborative with the county public health department to facilitate the COVID-19 testing of farmworkers and other valley residents with limited access to healthcare, several of its initial grant recipients brought a strong contingent of community workers and promotoras to the collaborative effort.
"Community workers and promotoras have demonstrated many times before and during the pandemic that they are an invaluable community resource," said Conrado Bárzaga, District and Foundation CEO. "The Coachella Valley, like many communities, experienced a significant loss of life due to COVID-19. I know that the loss would've been far greater without the tireless work of healthcare professionals, including our dedicated community workers and promotoras."
On April 21, the District and Foundation will formally recognize nine community worker and promotora organizations and nine community partner organizations at the second annual A Night of Stars. In addition to an awards presentation, the celebratory event will include dinner, live music, and dancing at the Agua Caliente Resort Casino Spa in Rancho Mirage.
Tickets and opportunities to support the event as a sponsor are available at 2023 A Night of Stars.
"It's going to be an incredibly meaningful and fun night as we honor the community leaders, community workers and promotoras who stepped up when our residents needed them most, and who continue to implement the District's equitable approach to health, helping to ensure all valley residents have access to quality care," Bárzaga said.
About the Desert Healthcare District and Foundation
The Desert Healthcare District is a local government agency formed in 1948. Its mission is to achieve optimal health at all stages of life for all District residents. The District includes more than 400,000 residents and encompasses the entire Coachella Valley. The District and Desert Healthcare Foundation, together, are one of the largest funders in the valley. These funds are used to assist residents — especially the underserved — in accessing vitally needed resources, such as primary and behavioral healthcare. Learn more at dhcd.org. 
Please direct media inquires to Will Dean, director of communications and marketing, at wdean@dhcd.org