Desert Healthcare District CEO Dr. Conrado Barzaga Addresses Coachella Valley Farmworker Issues at Congressional Hispanic Caucus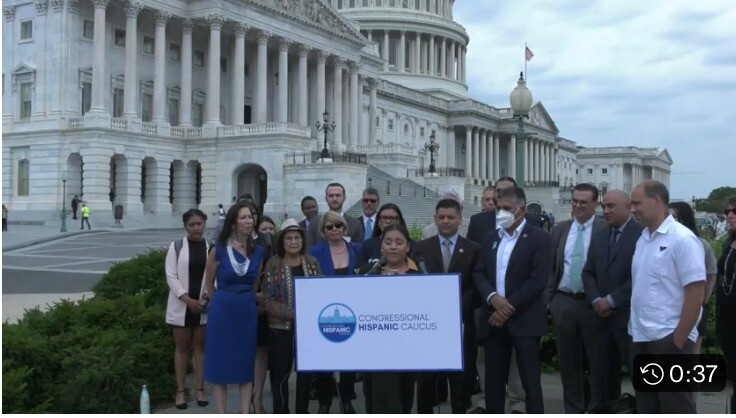 June 22, 2022 - District Staff
Coachella Valley farmworkers face many challenges to accessing resources to meet their families' health and wellness needs. 
Desert Healthcare District and Foundation CEO Dr. Conrado Bárzaga addressed those needs and challenges June 22 during the Congressional Hispanic Caucus (CHC) in Washington, D.C. The Caucus is a legislative committee comprised of 38 members of the U.S. Congress who are of Latino and Hispanic descent.
With Rep. Dr. Raul Ruiz (CA-36) as chairman, the committee focuses on issues affecting Latino and Hispanic Americans. A highlight of the event was the attendance of Dolores Huerta, the labor leader and civil rights activist who co-founded the National Farmworkers Association with Cesar Chavez. 
Dr. Bárzaga was invited to participate in the Caucus's farmworker policy discussion and share the Healthcare District's experiences serving the farm-working community in eastern Coachella Valley. 
"The roundtable discussion was a wonderful opportunity to meet directly with Congressional Hispanic Caucus members and brief them on issues impacting farmworkers and their families, such as health care, heat stress, housing, food insecurity and immigration," Dr. Bárzaga said. "I am honored to have been invited to speak and spotlight this essential part of the Coachella Valley community and the United States' economy."
In addition to identifying legislative issues that affect the farm-working community, the Caucus called on the U.S. Senate to pass the Farm Workforce Modernization Act, which aims to improve the working conditions and livelihoods for farmworkers and their families. 
The Healthcare District has adopted an equitable approach to services, programs and policies, which includes and uplifts farmworkers and other underserved residents who are adversely affected by healthcare disparities. For example, farmworkers have consistently been a top priority in the Healthcare District's COVID-19 response.
With the funding support of Riverside County Public Health, the Healthcare District established in 2020 the Coachella Valley Equity Collaborative to implement a multilayered approach to addressing the pandemic. The Collaborative, which consists of community-based and faith-based organizations and county medical providers, set up COVID-19 testing and vaccine clinics in fields and packing plants.
Its objective was to remove the barriers preventing farmworkers from protecting themselves and their families from the coronavirus. The resources were brought to the farms, eliminating the barriers of transportation, work schedules, language and more. In March 2021, The New York Times reported that the Collaborative was the first in the nation to recognize and conduct outreach to farmworkers as essential workers. 
The organizations represented at the Caucus meeting were:
·    Alianza Nacional de Campesinas, Inc.
·    California Farmworker Foundation
·    Campesinos Sin Fronteras (CSF)
·    Centro Binacional para el Desarollo Indigina Oaxacaqueño
·    Centro de los Derechos del Migrante, Inc.
·    Cierto Global
·    Child Labor Coalition
·    Congressional Hispanic Caucus Institute
·    Desert Healthcare District and Foundation (DHCD/F)
·    Dolores Huerta Foundation
·    East Coast Migrant Head Start Project
·    Farmworker Justice
·    FIND Food Bank
·    Líderes Campesinas
·    Migrant Clinician's Network
·    National Migrant & Seasonal Head Start Association
·    Rural Coalition
·    TODEC Legal Center
·    United Farm Workers of America (UFW)
·    United Farm Workers Foundation
·    University of California, Riverside School of Medicine
The Congressional Hispanic Caucus members and partners in attendance were:
·    Speaker Nancy Pelosi
·    CHC Chair Raul Ruiz, M.D.
·    CHC Member Senator Alex Padilla
·    CAPAC Chair Judy Chu
·    CHC Deputy Chair Rep. Nanette Diaz Barragán
·    CHC Vice Chair of Policy Rep. Darren Soto
·    CHC Whip Rep. Sylvia Garcia
·    CHC Vice Chair of Member Engagement Rep. Tony Cárdenas
·    CHC Vice Chair of Communications Rep. Teresa Leger Fernández
·    CHC Freshman Representative Rep. Ritchie Torres
·    CHC Member Rep. Jesús "Chuy" García
·    CHC Member Rep. Linda Sánchez
·    CHC Member Rep. Lou Correa
·    CHC Member Rep. Salud Carbajal
·    CHC Member Rep. Jimmy Gomez 
About the Desert Healthcare District and Foundation
The Desert Healthcare District is a local government agency formed in 1948. Its mission is to achieve optimal health at all stages of life for all District residents. The District includes more than 400,000 residents and encompasses the entire Coachella Valley. The District and Desert Healthcare Foundation, together, are one of the largest funders in the valley. These funds are used to assist residents — especially the underserved — in accessing vitally needed resources. Learn more at
dhcd.org
.